Mango Pulp & Concentrates:
India is abundant in Mangoes and has thousand of varieties of which, alphonso, totapuri, Kesar, raspuri, neelam, malika, bagampalli are few to name.
For processing in to pulp and concentrates, normally Alphonso, Totapuri, Kesar and Raspuri are extensively used and the product has extensive demand in overseas market.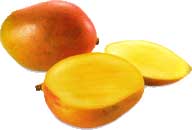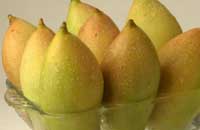 High quality fruits go to the controlled ripening chambers; Fully Ripened Mango fruits are then washed, deseeded, pulped, centrifuged, homogenized, concentrated in evaporators by heating, and sterilizing and after cooling to 25 deg C, the product is packed aseptically in bag in drum in sterile condition, the product is kept in ambient temperature.
The sterilized pulp is also packed in OTS cans, by hermetically sealed, retorted and cooled and the product is kept at room temperature.
Frozen pulp is pasteurized and deep-frozen in plate freezers.
The above processes ensure that the natural flavour and aroma of the fruit is retained in the final product
. Mango Pulp/Concentrate is perfectly suited for conversion to juices, nectars, drinks, jams, fruit cheese and various other kinds of beverages. It can also be used in puddings, bakery fillings, fruit meals for children and flavours for food industry, and also to make the most delicious ice creams, yoghurt and confectionery.
The aromatic flavour and high natural Vitamin C content of the product makes it suitable for blending in a variety of ready to serve beverages and health drinks.