IQF pomegranate arils or kernels prepared from ripened pomegranate fruit are washed and then passed through Individual Quick Freezer at maintained temperatures and stored at – 18° C.
Pomegranate is a slightly sweet and tart tasting fruit which has red coloured arils that hosts the benefits of extraordinary and enriching antioxidants. The bright red and juicy pomegranate seeds are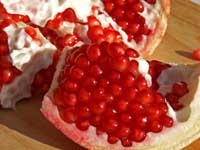 simply irresistible.. We offer Indian origin, Bhagwa variety pomegranates that have bold arils and crunchier seeds. They are suitable for both table and processing purposes.
Preliminary research suggests that the fruit juice may play a role in reducing the risk of cancer, reducing serum cholesterol, and protecting arteries from clogging.